The Twin Falls Sandwiches Film Festival has a funny name, and no matter how you slice it, Twin Falls, Idaho is a long way from anywhere. TFSFF also happens to be in the Top 100 Film Festivals out of 8,000 worldwide. My creative partner Todd Bull and I couldn't resist - we simply had to enter.
We submitted a crime drama script, Fawn's Justice - strong characters, big arcs, lots of action, compelling issues. Plus it won Best Crime Drama at the 2019 Las Vegas International Film and Screenwriting Contest. We liked our chances.
But even with that, I felt kind of jittery when the TFSFF festival director Ray Chao reached out to Todd, who handles all our entries. We made it in. Fawn's Justice was an official festival selection.
Dang. We'd planned to go to the American Film Market in LA at about the same time to pitch our scripts to Hollywood producers. Suddenly it was a toss up.
DEBATE AND DECIDE
It took us about five minutes to debate our options and decide what to do. Boy, it was a long, tense five minutes, though. There were a lot of compelling reasons to go to AFM. We ignored them all.
Todd told me about Ray's email. He wrote, "We're going to table read a scene from your script at the festival, one scene from each of the top contenders. You are coming, aren't you?"
Vanity, thy name is Sandwiches. Only a table reading could compell me to cross the Sierras in November. We could've gone to the beach. Instead we went through the empty quarter of Nevada to the icy ends of the earth.
BREAK INTO TWO
It was a beautiful Friday afternoon. Todd and I bundled into a rented Jeep 4x4 and headed east on I-80. When we left Sacramento, it was a balmy 70 degrees. An hour later, the temperature had dropped to 30 degrees among towering peaks and dark evergreens. At Donner Lake, I pivoted to the back seat, nervously patting the down comforter I'd brought - just in case.
As we climbed, Alex Ferrari shared precious pearls of film making wisdom in his Indie Film Hustle podcast. Todd had dozens of episodes on his phone, and we played them through the stereo. We hung on Ferrari's every word, hungry for more.
The road opened up, and Reno sprawled before us like a web stretched among the golden rolling hills. And Alex Ferrari droned on. The miles slipped by one by one, and we kissed the 21st century goodbye. The world slowed down as the landscape opened up to long vistas, vast open spaces and distant mountains. We were doing 80 mph, but it felt like 25. And Alex kept talking.
"See? There he goes again," Todd said testily. "Why can't he just let the guy get a word in?"
We stopped to eat in the tiny town of Lovelock at the Cowpoke Cafe. The spoons were just slightly greasy, and the service, laid back. Just outside of town, we passed the Lovelock Correctional Center. "Medium security? What exactly is medium security?" A highway sign warned against picking up hitchhikers. Right. Got it.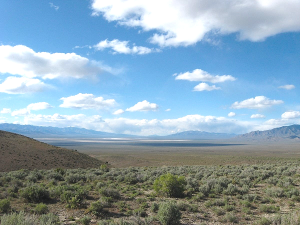 On and on we drove, skipping past Unionville, right on through Battle Mountain, past Beowawe and Elko, famous for its rodeo and international cowboy poetry contest. And Alex kept talking. Didn't that guy ever shut up? Now I was getting irritated.
"That's exactly what he said in the last podcast. Why is he repeating himself?"
"Yeah-huh, I know," Todd piped glibly… "Wait, back it up - I want to hear what he just said."
Just as the sun tucked below the mountains, we turned off I-80 and headed north on Highway 93. All signs of civilization faded. We were on a road through pre-history now in a landscape touched only by the finger of God. We turned off the stereo and drove silent through the inky night.
THE PROMISE OF THE PREMISE
I woke up Saturday morning still full from the greasy burger I had in Lovelock. Even so, Todd insisted we get a good breakfast to bolster us against the 18-degree temperature outside and the long day ahead of us in the dark of the historic Orpheum Theater, the festival's home.
Our gig was not actually at the theater but at the Koto Brewing Company next door. The room was packed - maybe 50 people sat below the stage. It was small but exciting.
As we listened to the actors read the scripts one by one, we were transported. The bricks and metal ductwork, the audience, and the brew-swilling customers all disappeared. Suddenly we were in someone's living room, or an alien planet, or a crowded boulevard in downtown San Francisco. The writing came alive.
Hearing our work read aloud by actors - people who didn't even know us - was heady and eye opening. Fawn's Justice had grown legs and left us. It was part of something bigger now. Todd and I both let the experience wash over us. We were giddy, a little in awe, the world a rosy twinkling haze.
We were in this state when Ray approached the stage with a stack of snow white sandwich plates - the festival's trophies. He took the microphone and dished out trophies to grateful winners.
"Now the award for Best Crime Drama…"
I gasped. My heart did a flip-flop, and butterflies danced in my stomach. I shook Todd's shoulders excitedly, and he smiled. I knew. I just knew.
It seemed like ages before Ray spoke again. "Fawn's Justice by Todd Bull and Olivia Reedy."
Todd and I stepped onto the stage, got photographed and said our thanks. I don't remember if we made a speech. If we did, it was short. The whole thing was understated, which perhaps made us even more humble. It was worth it - everything up to that point was worth it, just so we could have that fleeting moment that afternoon in a small town with a big heart at the ends of the earth.
We carefully placed our plate under the down comforter in the back seat of the Jeep. We walked to the Orpheum Theater and sat in the dark, watching movies for the next six hours. Starving, we ate dinner at Shari's at 10:00.
Sunday morning, we rolled out of bed and loaded up on groceries for the road - jerky, crackers, date rolls, a vegetable tray with Ranch dip. By noon, we hit Highway 93 for the 9-hour drive home.
"Let's listen to a podcast," Todd said.
"Again?" I groaned. "I hate Alex Ferrari." I passed him a dipped veggie.
"Me too," Todd muttered around a carrot. "But you'll love Giles Alderson and The Filmmakers Podcast."
A well-modulated English accent flowed through the Jeep's speakers and made us laugh as the golden landscape rolled by. We got home in the dark, the weekend spent… gloriously, extravagantly spent. I gently put the trophy away, poured a glass of wine, put my feet up and watched a movie.